Summer is upon us and its prime time for outdoor suspensions! Around this time you will start to see multiple teams across the USA post up pictures of their hiking adventures, outdoor meets, and maybe some guerilla suspensions! Holy Mountain loves to connect suspension and nature.  There is something so special and unique about being able to suspend in the outdoors. Let it be feeling the earth on your feet before you lift off, the fresh air on your body, or the beautiful views. Outdoor suspensions hold a special place in each of the Holy Mountain members hearts. 
The day was extremely hot and sunny (around 85 degrees) but the team was able to push through and get all the gear to the chosen site. Holy Mountain traveled from Oakland to a remote spot in Alamo, CA on 6/8/2019. The oak tree they suspend from is about 1.5 miles uphill. They all proceeded to climb this hill and started to set up.  Alex B. climbed the tree to set up the rig point while Aerik Martin and Brandon Mead started to set up piercing. You could feel the excitement in the air! Each one of the people suspending were talking amongst themselves to see who wanted to go first.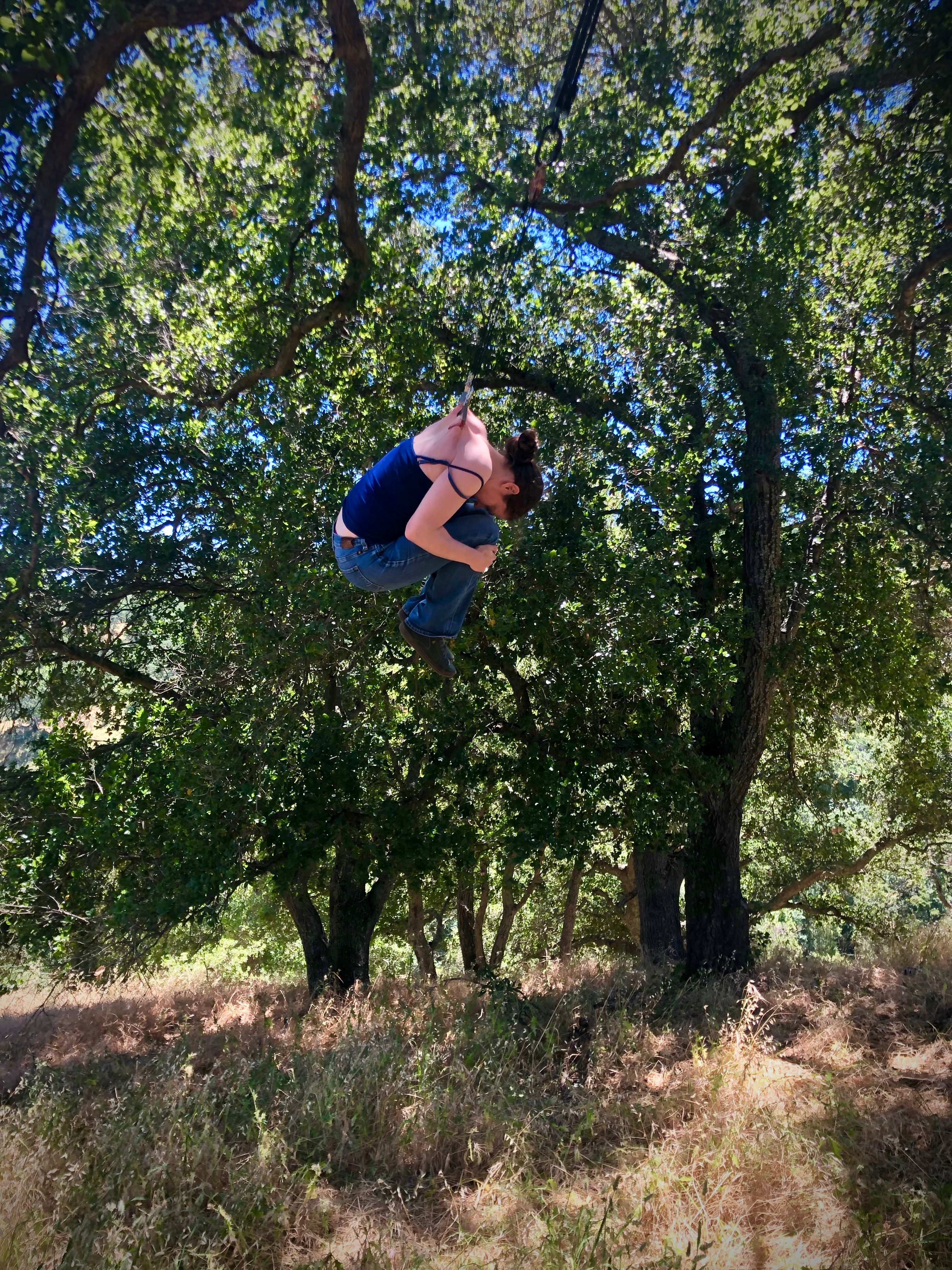 Sarah, a first time suspendee with Holy Mountain, decided to step to the plate and go first.  Sarah was rigged up in a two point suicide and ready to go in no time. Watching her kick off was an amazing sight to see! She didn't give a sign to pull her up, just a walk forward and kicked her legs out from underneath her. She states, "This was totally awesome and such an easy take off rocking to Tom Petty" Sarah stayed up for a long time. She swung around with a smile on her face while Tom petty hits echoed through the woods. It was an honor to see her kick into a suspension with such ease and enthusiasm.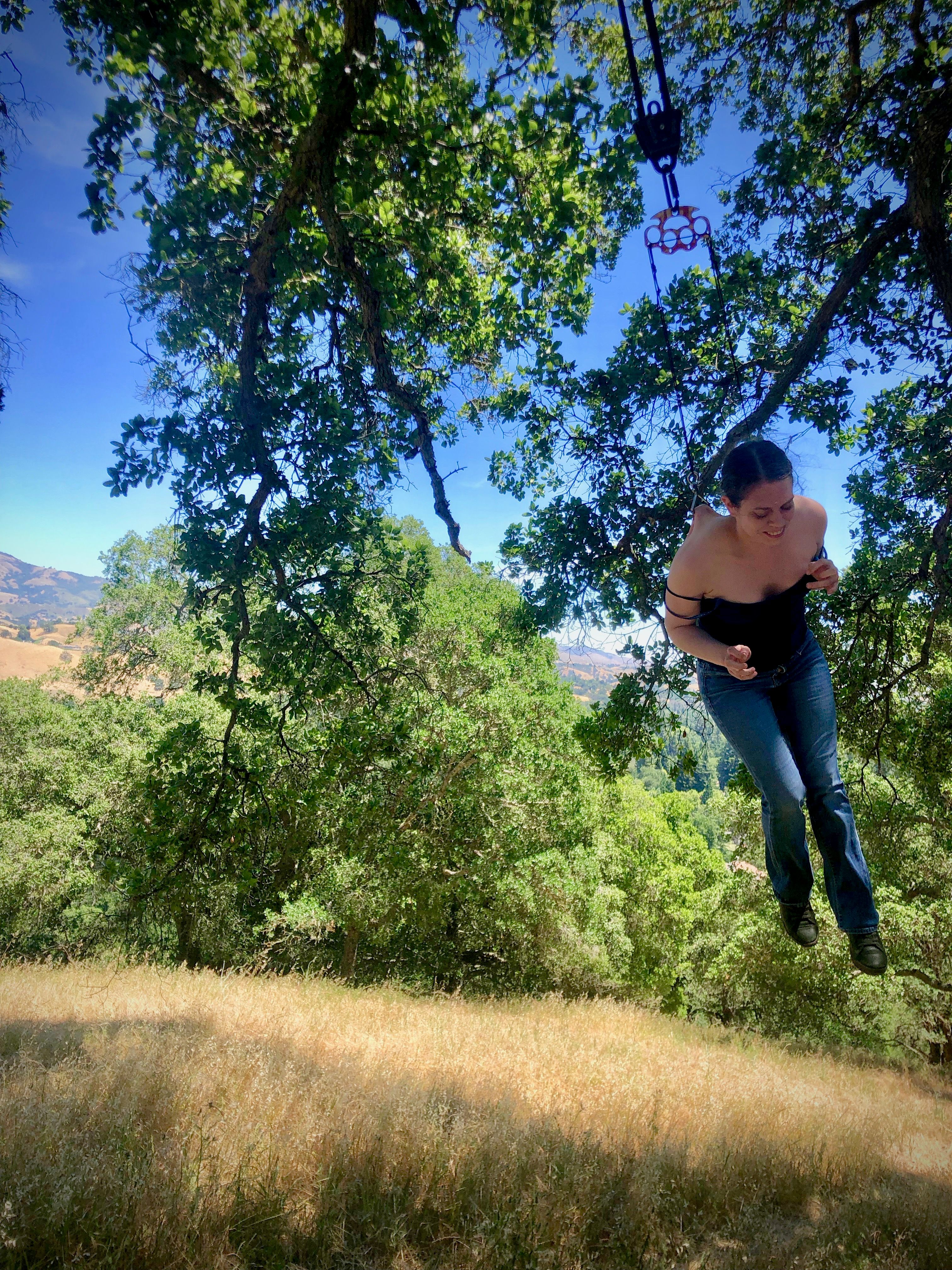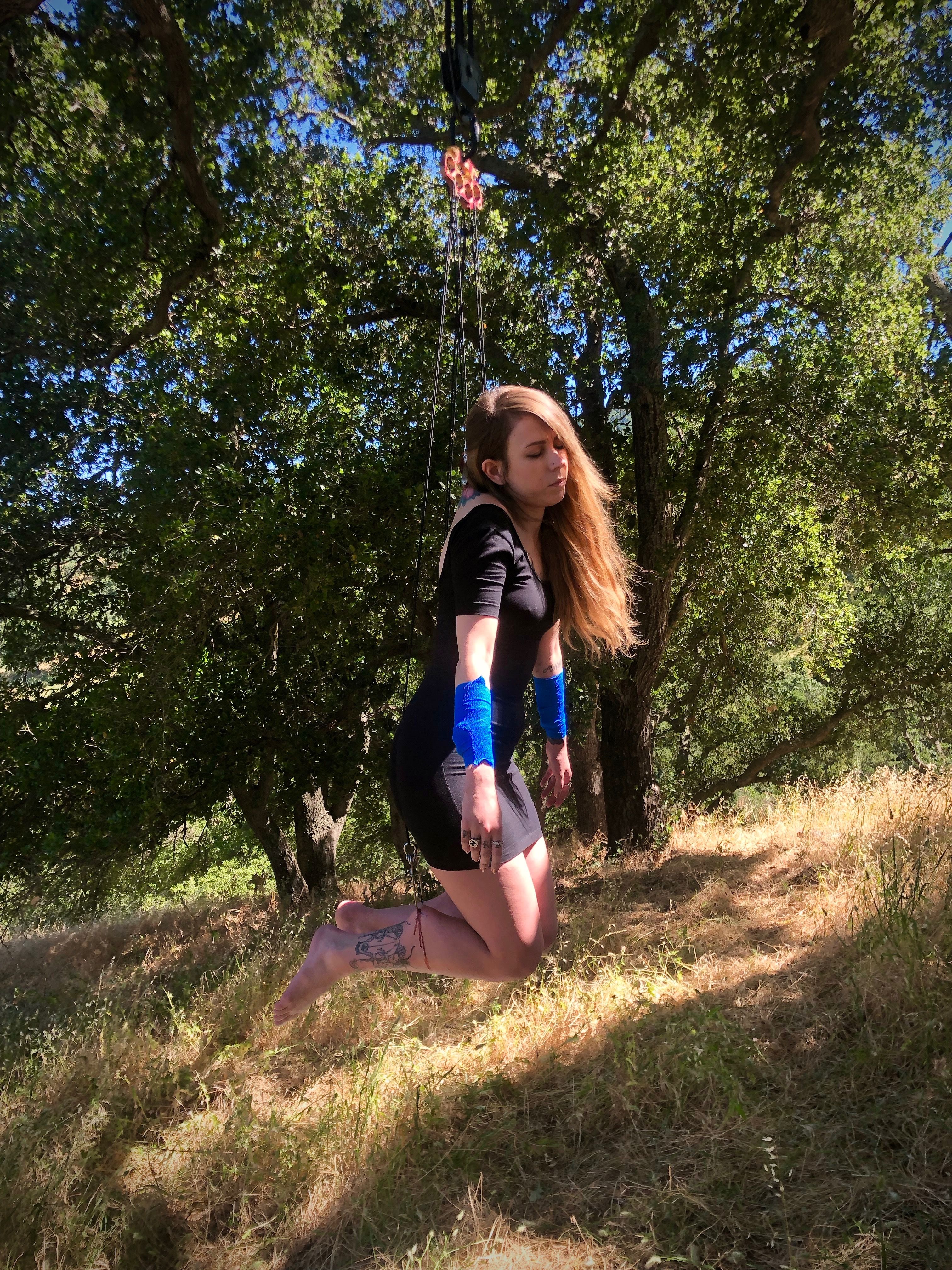 Evelyn Blair stepped to the plate next with a 6 point kneeling suspension. She explains, 
"After having experienced a particularly cathartic position at my last meet (an 8pt captain kirk), I was looking for something a bit more sustainable for my 7th suspension. I ended up choosing a kneeling position with my arms up and behind my head. Think getting arrested- like that. This ended up being unexpectedly challenging, but so incredibly rewarding to have been able to accomplish. Holy Mountain has an incredible knack for knowing just how much to push you and when to step back. When approached with the opportunity to be pierced with all 6 hooks at once, I knew they wouldn't have asked if they didn't already know it was something I could handle. After being unable to lift off for some time, I decided to cut my arm hooks so that I was able to hold Patches' hands, and that ended up being all I needed to get off the ground. The experience as a whole was beautiful, painful, and freeing. Holy Mountain in its collective creates such a powerful, sacred space for everyone they meet. I'm honored to suspend with and call them my family." 
Watching Evelyn work through the mental part of suspension is absolutely beautiful. She comes to Holy Mountain and tries difficult suspensions each time.  Her determination and will to push herself is absolutely inspiring! Through her moments of doubt, she still is able to keep pushing herself to accomplish something beautiful! Her doubt was transformed into serene smiles!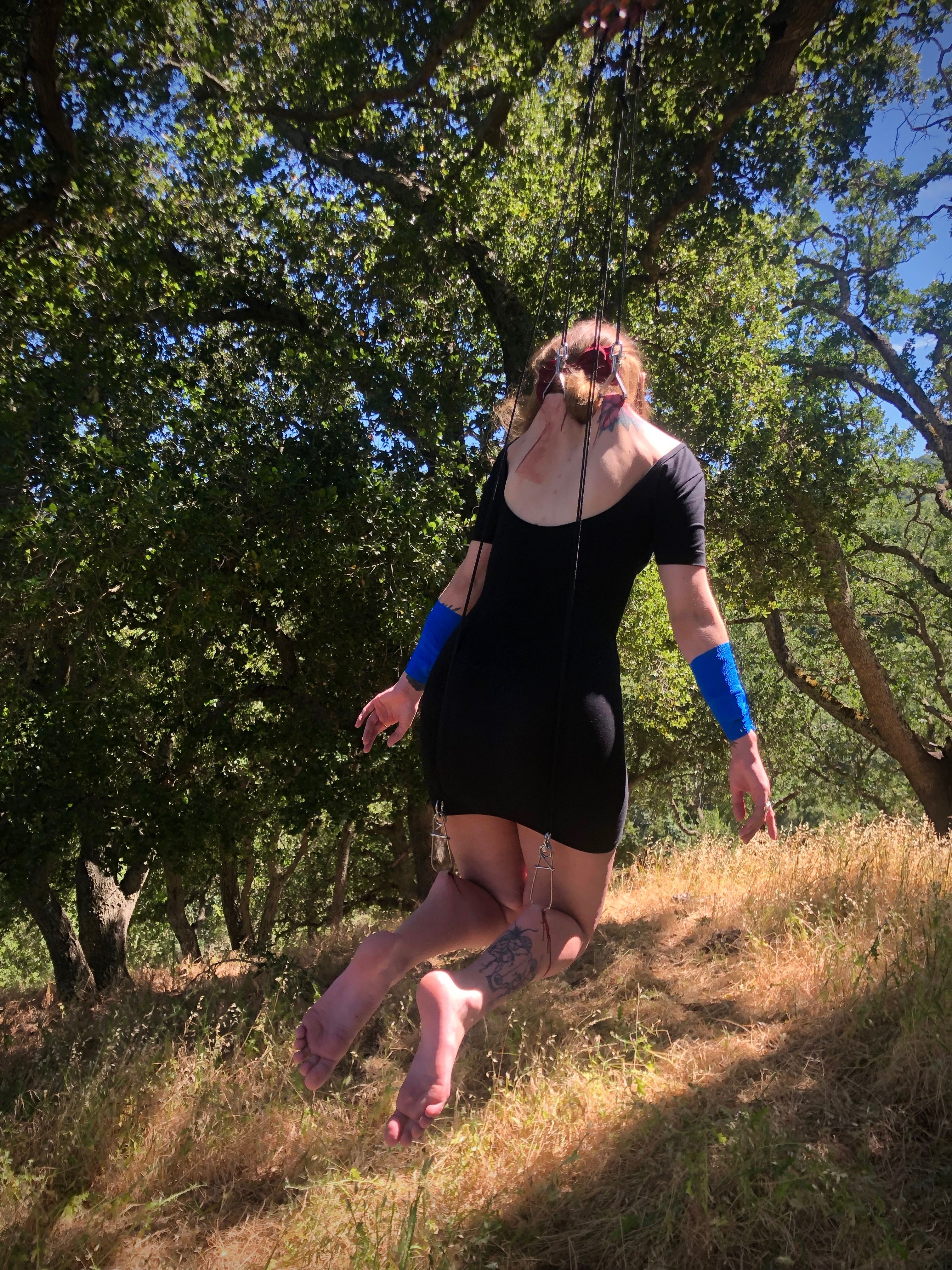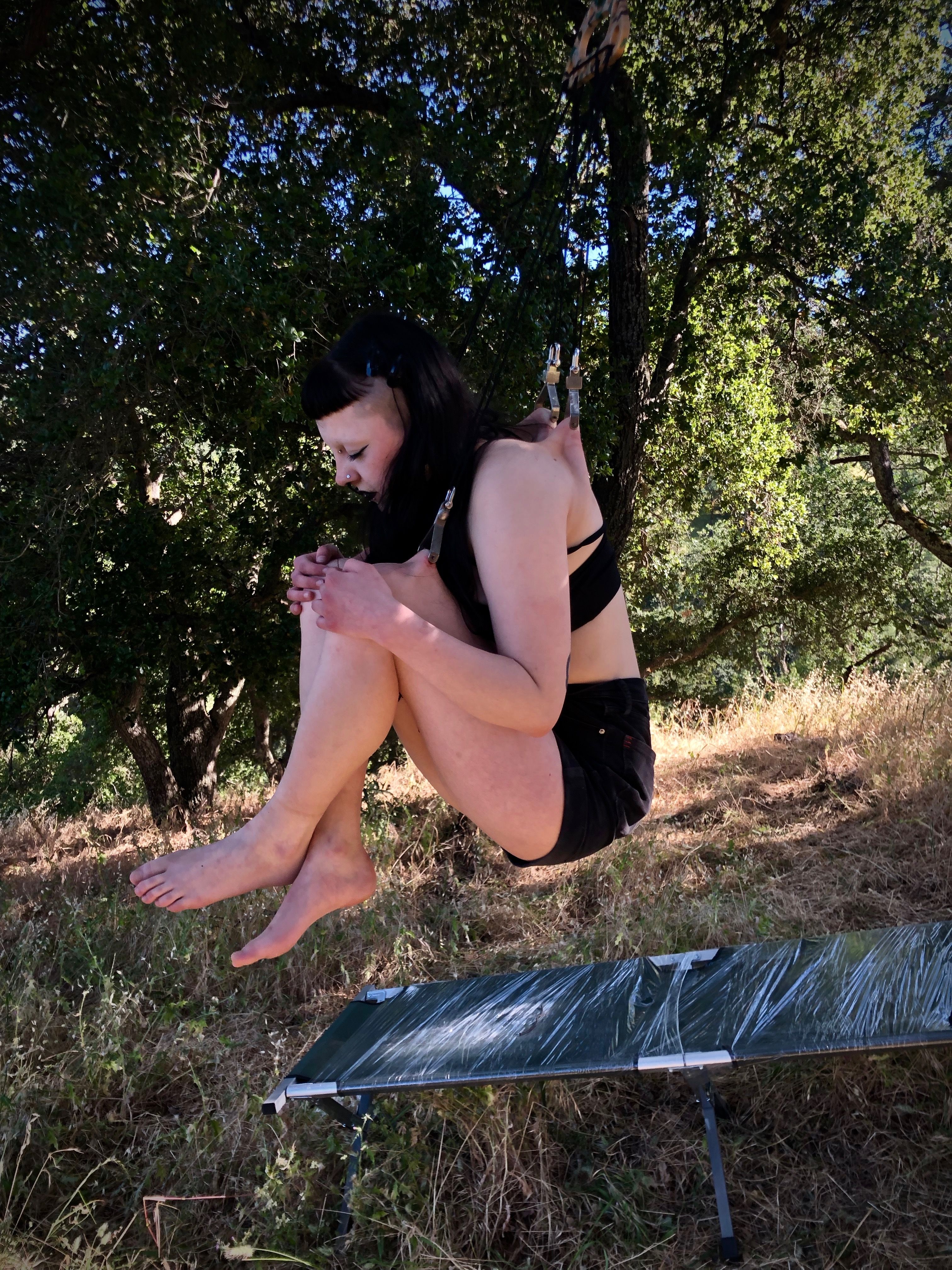 Anwyn Evans followed suit.  After watching two beautiful suspensions she was ready to do her 4 point cannonball. Anwyn made this look very easy!  She reports, 
"Overall, I would say the suspension was a tranquil and cathartic experience. After settling in my position and getting adjusted I felt very comfortable, serene, and at ease and generally very happy! It helped that I was in a pleasant warm outdoor space surrounded by amazing people. It only felt shitty the first 5 minutes and then again upon coming down." 
Sometimes it takes a bit of time to get off the ground but she was able to focus on her breathing while talking to the team to lift off. Upon lifting off you could see the serenity overcome her face.  There are beautiful moments in suspension when you can see the suspendee leave their body for a bit. Anwyn was no different, watching her leave the present moment and explore her mind was astounding!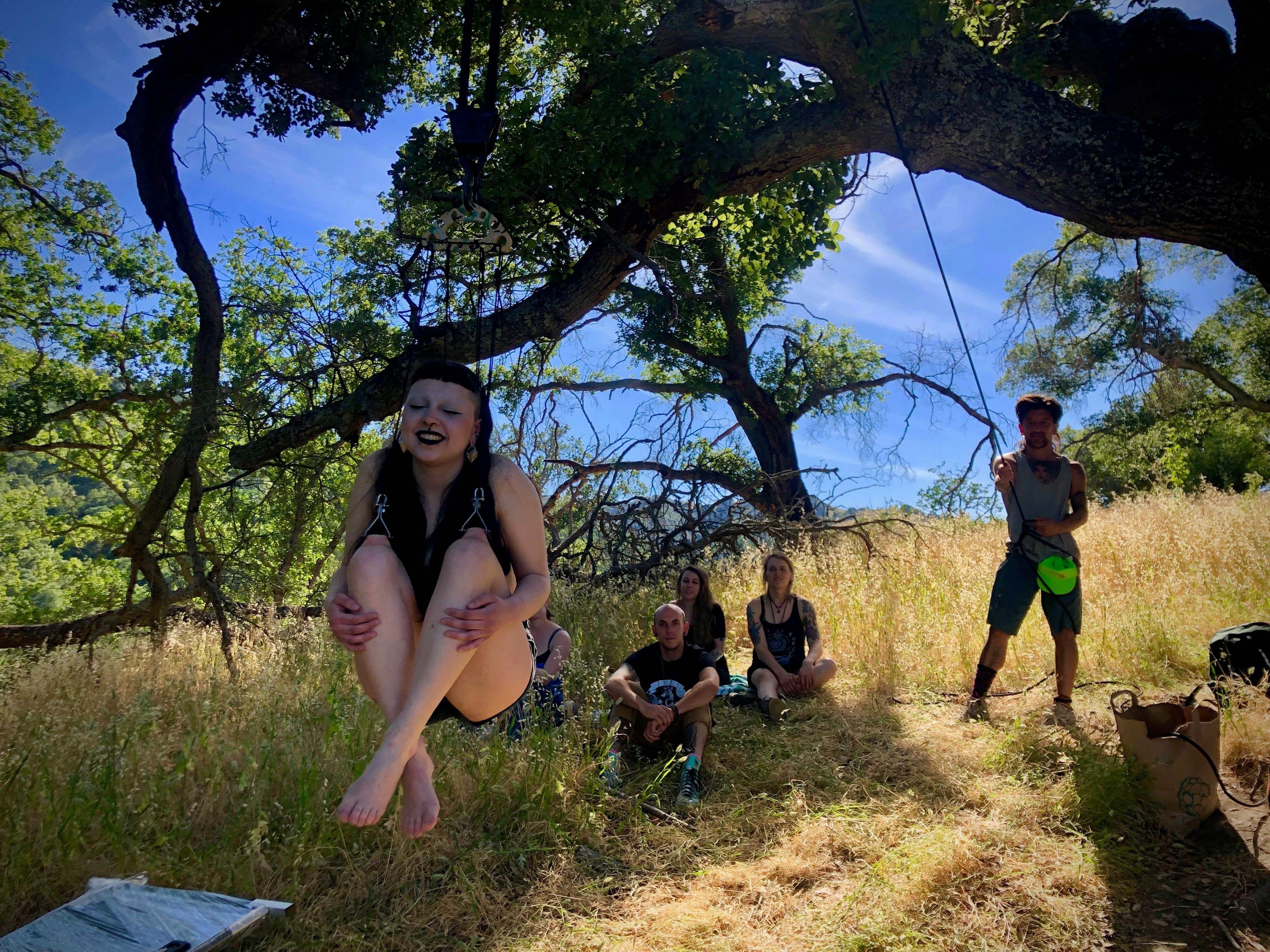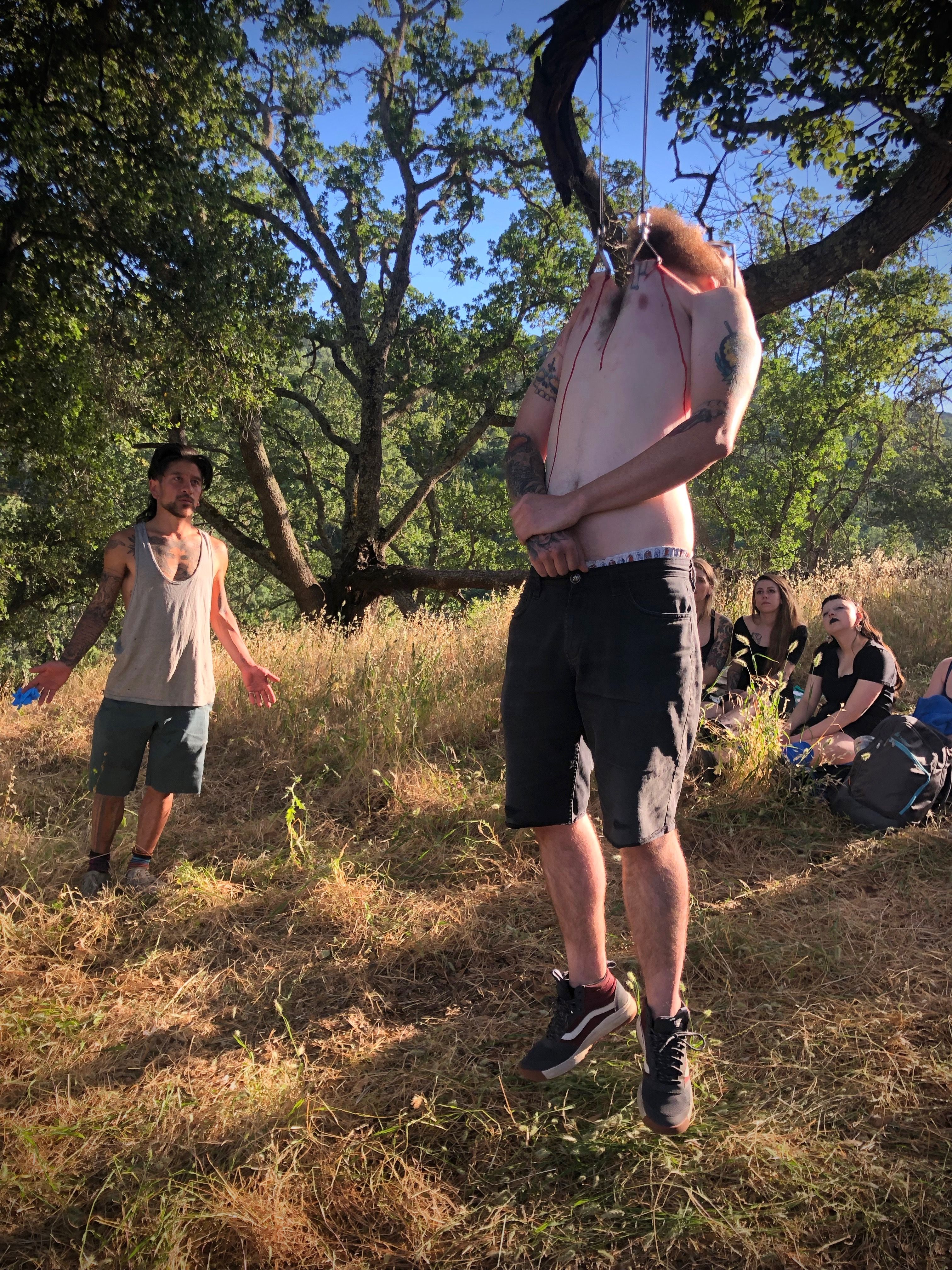 Last but not least, was Holy Mountain's own Brandon Mead.  Brandon wanted to do a chest suspension for quite some time but the timing wasn't right just yet. He wanted to create space for his own ritual before the suspension itself.  Brandon set an altar of crystals and set his intentions. Aerik helped sage him and the area before the team began to mark and pierce him. Brandon explains, 
"I made the decision to do my first Chest Suspension about a week before the meet up. It's been more or less a year since we formed Holy Mountain, and I wanted to mark the occasion. Personally I have been going through a lot of inner turmoil about being stuck in the past, and to me, this suspension and it's ritual were designed to pull out all the bullshit that has been weighing on my heart, and fortify my feelings of growth within myself and our greater community. With the love and support of my wonderful hook family, new and old, I had no fear of the pain I went through, and got up as quickly as I could. Fuck waiting, burning it in, let's fucking go! Being up was difficult, as my neck and hips wouldn't relax as much as id want them to, but in the last maybe 30 seconds, my EVERYTHING felt as if it were pure electricity. Shortly after feeling myself turn into lightning, I was lowered to the ground, yet I was not fully satisfied, as I still wanted some more time, and more tension. Ending with a prone chest pull, endorphins rushed upon me, in a high I've not felt before. In the time since, it feels as if something had been knocked loose, and life has been astoundingly beautiful. I don't know where I would be right now without this passion and this found Family of mine. Eternally grateful doesn't come close to describing it properly." 
Watching brandon take that leap of faith into a chest suspension was astonishing. As many know, doing a chest suspension can be a big step in your suspension journey.  Many have reported going out of their body, extreme pain that can turn into extreme sublime feelings, and/or hallucinations. Brandon lifted off and the whole crowd was silent.  A smile radiated from his face as he hung in the warm breeze. After he decided to come down, he laid on the ground for a bit. He was still attached to the rig while he collected his thoughts. Chest suspensions are heavy and Brandon was able to fly through this experience with confidence.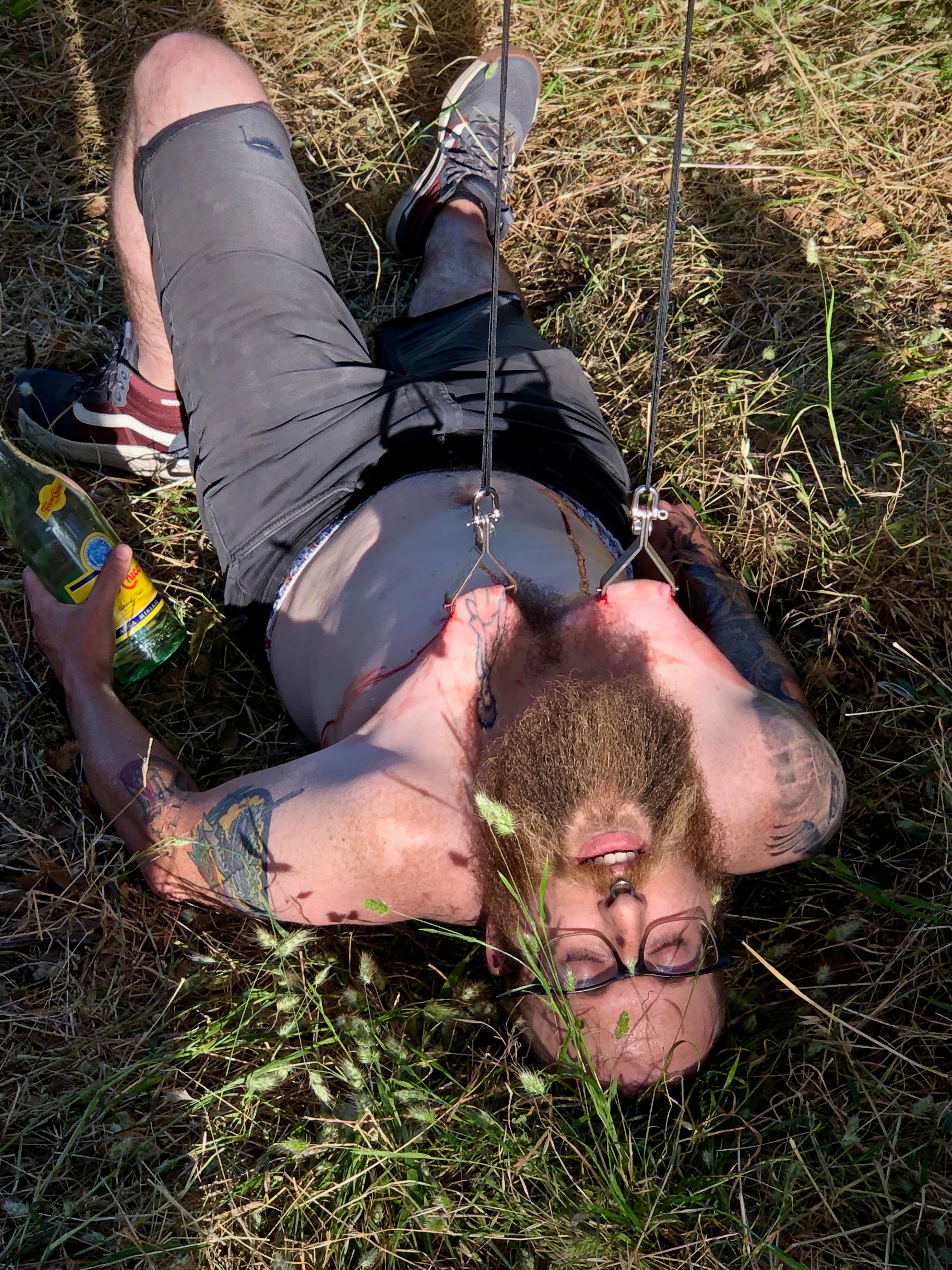 The day ended with the sun just beginning to come down.  There was just enough light to finish cleaning the site and to hike back downhill to the cars.  There was a feeling of accomplishment and satisfaction that permeated through the walk back.  Holy mountain was able to create an atmosphere where everyone felt included, safe, and excited to learn more. Be on the lookout for more outdoor events hosted by Holy Mountain Suspensions! All are welcome to come and share space, participate in community, and ask questions.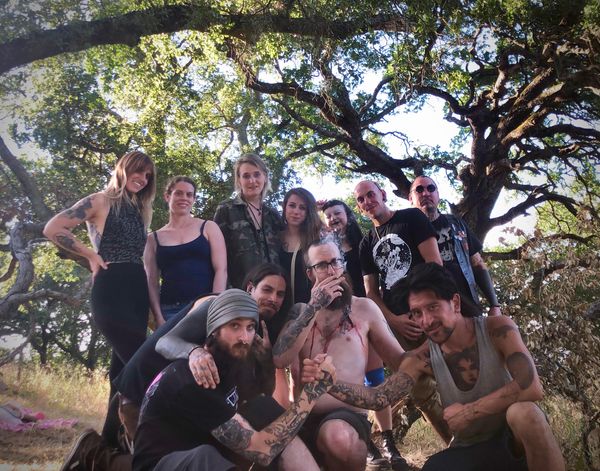 More information about Holy Mountain Suspension: 
Written by: Patches Sullivan 
All Pictures taken by:  Patches Sullivan