Welcome to our first of many installments of 10 QUESTIONS. This is a meet and greet type interview of those that inspire others inside of the suspension community. Our 1st guest is a great one, if you all would put your hands together for, Eden Thomson.
Who are you? 
My name Is Eden Thomson, I am a professional body piercer from Christchurch New Zealand, member of the association of professional piercers and body suspension practitioner. I head up a team called Skindependent Suspension and we have been facilitating suspensions now for over 12 years.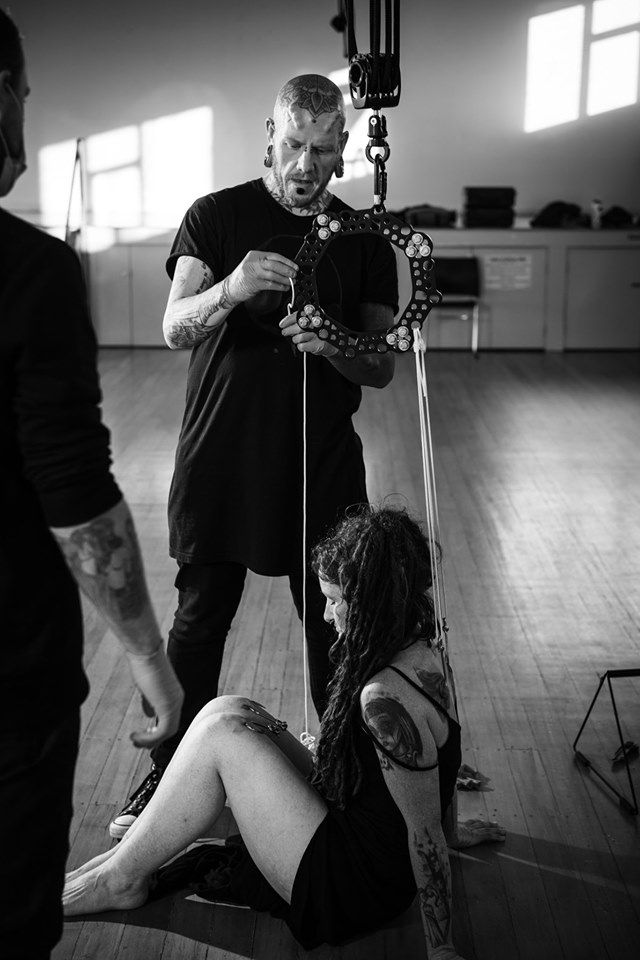 Why suspension? 
Funnily enough, when I first saw suspension, I actually drew a line in the sand so to speak, feeling at the time that is was a little outside of the realm of what I want to be involved with. This however only lasted around 6 months until I decided that is was in fact something I wished to experience for myself. 
The feeling of empowerment I got from suspension was like no other. What a liberating experience. I feel, from that moment, I found my outlet. Outlet for what? Who knows, however, I have never looked back.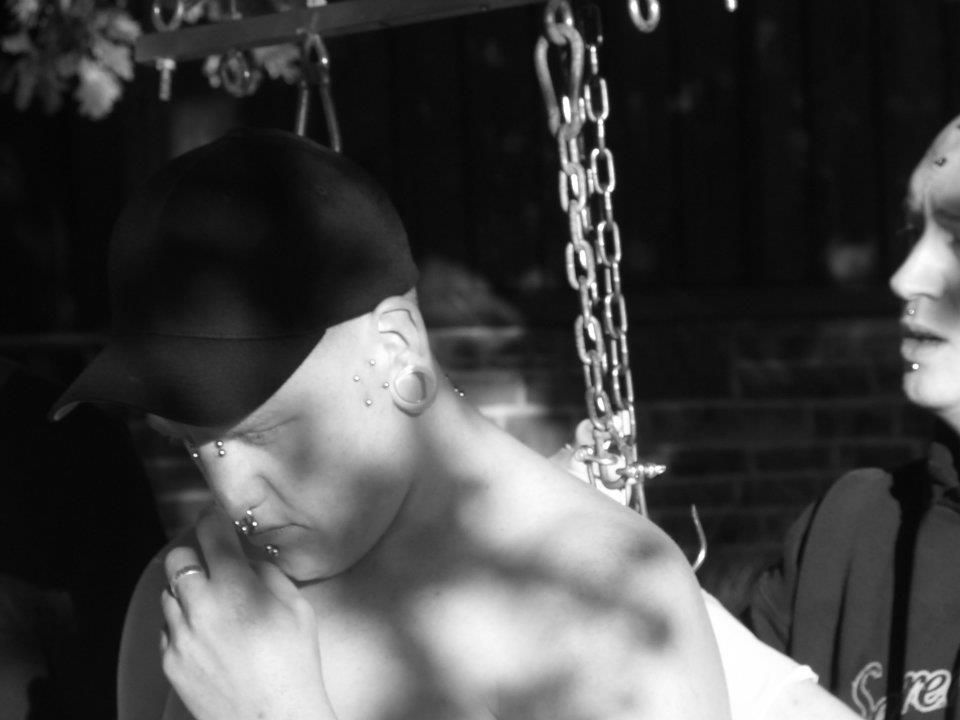 Favorite suspension (Done or facilitated)? 
I have many favourites for many reasons, depending what I wish to gain from suspension in that moment. I think though one of my top experiences was suspending from my chest at Dallas Suscon in 2012. This was facilitated by Håvee, Allen and Christiane. 
As far as favourite facilitation goes, we hosted an installation at the end of 2015 in celebration of releasing our photo book, dedicated to wings of desire called "Suspended Beauty". This was probably one of my proudest moments in suspension. The team did exceptionally well and executed the piece perfectly. 
The other moment that comes to mind was being asked to help facilitate the Stelarc performance "Shadow Suspension" at Dallas Suscon 2013. Being able to work alongside some of the most amazing practitioners worldwide, was an amazing experience, one of which i gained a new appreciation for artistic installation.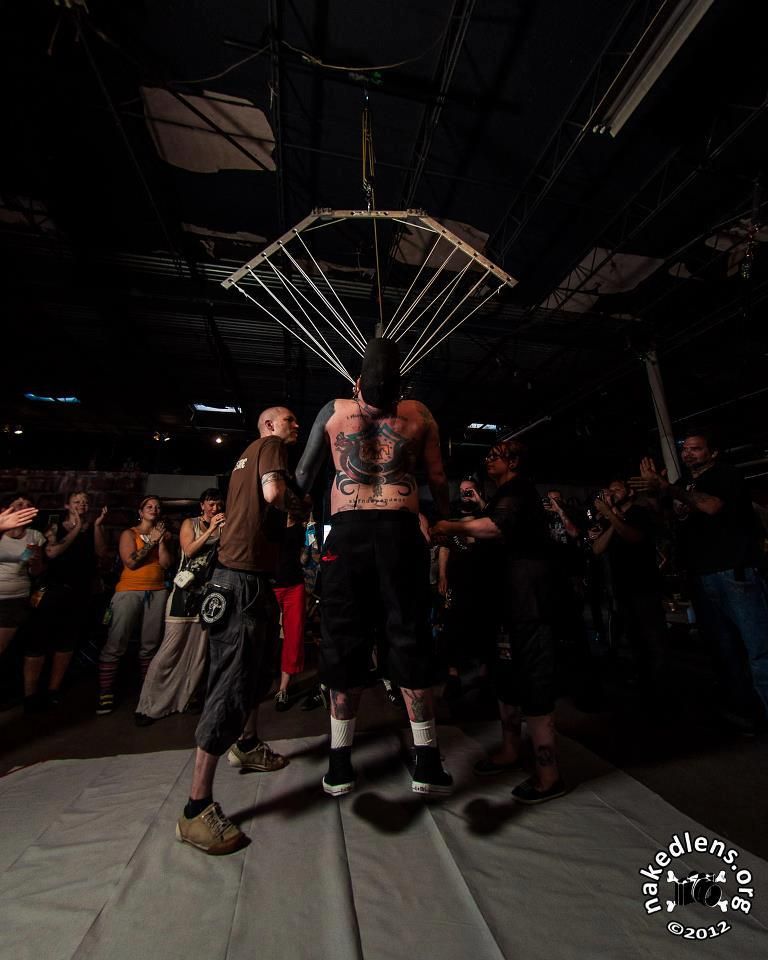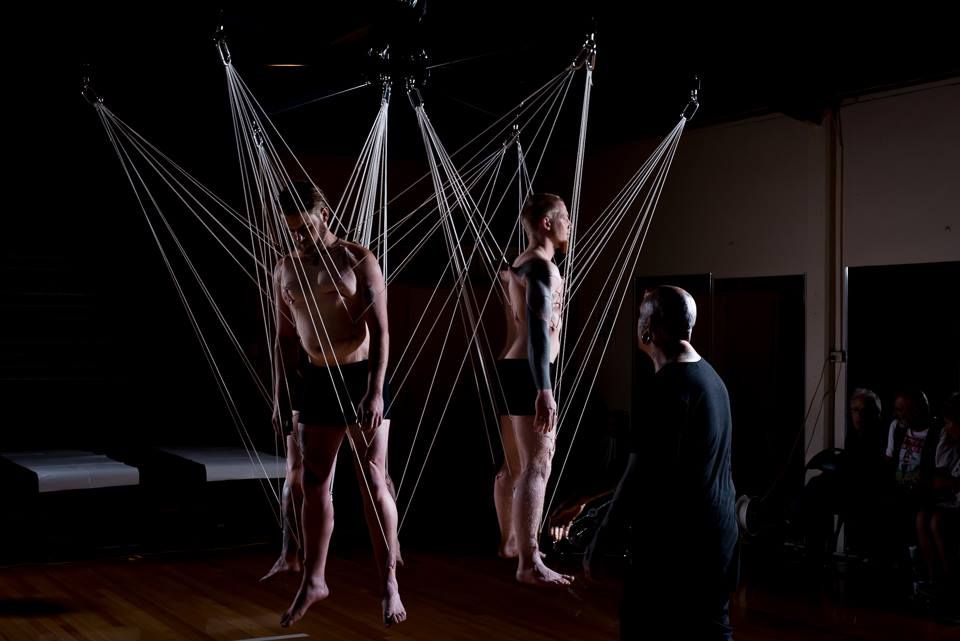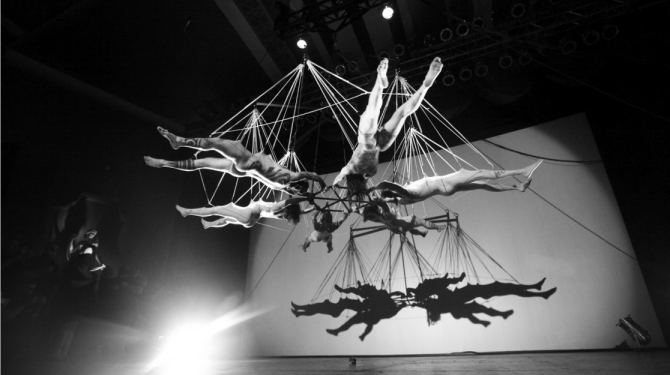 How did you get started? 
Originally, after trying suspension for myself, I started to dig a little deeper into what others were offering and how they were offering it. Suspension was on a very small scale here and I wanted to explore how we could grow the interest, while offering the safest, most up to date practices at the time. 
This led me on the path of Allen Falkner and Håvve Fjell - both very forthcoming with information to help me grow suspension here. I was (am) very appreciative of their help for if it wasn't for their help in answering my many, many questions - I certainly wouldn't be where I am today. 
From there, I created Skindependent Suspension and started the first official "team" in New Zealand. 
Because of this, i have always been of the "pay it forward" mentality. We gain nothing as a community witholding information from others, so i am always more than happy to talk suspension with anyone wanting to learn/better themselves - even just to keep that dialogue open helps us all grow. 
Biggest suspension inspiration (Person)? 
This is a tricky one, for I am constantly inspired by any practitioner wanting to better themsleves or whoever is acting in the best interest of safety for the community. I will however, name a few, in no particular order; 
Misty Forsberg - her and I have had a long standing friendship and I know her and I will forever see eye to eye on any topic. She is fanatatsic to bounce ideas off of and sees suspension as I do, which i value greatly. 
Håvve Fjell - I consider Håvve my mentor from the beginning, his group, Wings of Desire, have been a constant reminder of why i love this. 
Skindependent Crew (past and present) - without the dedication and love for suspension, the crew wouldn't be where we are, so I am inspired by their ideas and values they all bring. 
Allen Falkner - for not only paving the way, but for also hosting an amazing educational event, one I am forever grateful for attending. Some of the most valuable information I have learned was at these events. 
Daniel Thomas - My partner in crime, Daniel has a creative flair (hehe) that is second to none. He is one of the most kindest, humblest practitioners I have ever had the pleasure of facilitating with. 
Matt Kirk - One of the OG's of Skindependent, it has been inspiring seeing his journey over the years and he has developed into one of the most educated practitioners I know. 
Jason Shaw / Emrys Yetz - When I think of these guys, it reminds me of my humble beginnings. It was their faces I saw when i did my early research and I am forever thankful for their continued input into the community. Their work never goes unnoticed and I have immense appreciation for them. 
Biggest suspension inspiration (Concept)? 
Anything large scale, artistic installation style events are my jam. There is so much beauty in what we do, seeing these concepts come to life make my heart happy. Stelarcs works with wings of desire, Italian Suscon, Oslo Suscon and Skin are all events I feel continually push that envelope. 
Favorite sandwich? 
I'm not eating too many sandwiches these days, however a grilled cheese toastie never goes a miss!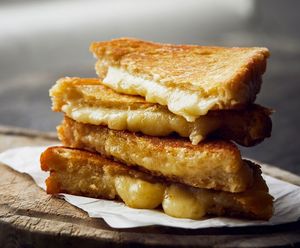 Favorite piece of gear? 
Where do I even start with this one? I have so many as they all have so many purposes! However, I am going to go for a trusty Se7en plate by Rock Exotica. You can't go wrong with this universal piece of kit. Affordable, sturdy and you can facilitate pretty much anything from it!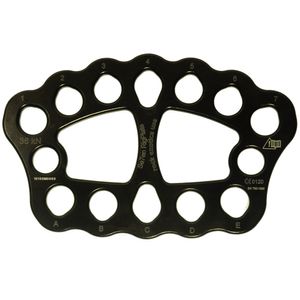 Whats next for you? 
What a good looking question! We have Suscon Australasia happening in January 2020 - this is the second event of it's kind in this hemisphere. I am all about continued education and facilitating beautiful artwork with those passionate about what we do. The first Suscon here in 2015 was really well received so i am excited to repeat the event in 2020! 
After that, I would love to focus on more installations - we have a collaborative exhibition planned for March 2020 which I am also excited for! 
What would you tell the next generation of suspendee's? 
Be humble. 
Be kind to one another. 
Leave your ego at the door. 
Decrease the variables. 
Pay it forward. 
Ask questions. 
Ask more questions. 
And for the love of all things amazing, don't ever, ever stop learning.
You can see follow Eden and Skindependent on facebook.